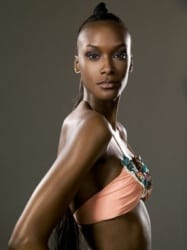 There's another season on the way, but it looks as though the America's Next Top Model Cycle 12 winner isn't ready to pass on the crown just yet. Teyona Anderson, who emerged victorious on the reality competition, recently talked about what it's like after her participation on the series.
On an interview with IGN, the model discussed her experiences on camera, in addition to pointing out which was the most fun challenge for her. It wasn't her CoverGirl commercial, that's for sure.
Asked about how being on a reality TV show felt, the America's Next Top Model 12 winner replied: "At first it was a little annoying being around all the cameras, but after awhile, once you get used to it, it's like they're not even there."
To finally achieve her dream of taking home the title, Teyona had to undergo a number of obstacles - from every wild photo shoot to rocking the runway. However, what held the most excitement for her was neither.
"I think the funnest challenge - I don't have a least favorite or favorite - but the funnest one was when we had the Samba dance. I'm not the greatest dancer, but it was a fun challenge, just learning how to dance and dancing with different partners."
Before anyone knew it, Teyona Anderson made it as one of the top two finalists of the season, along with Allison Harvard. She wasn't even sure which of them would actually win, since it definitely was difficult to deduce.
"Towards the end, especially when it got down to the two of us, I did not have a clue who was going to win, since we were so neck and neck," Teyona said. "At that point, you want it so bad. You want to win, but you really just don't know what's going to happen."
Now that we all know who went home as America's Next Top Model, it's no longer a surprise that Teyona's sudden celebrity status is a huge transformation in her life. Laughing, the model said, "It's crazy, because people recognize me everywhere I go. I didn't think it was going to be like it was, but they're like, "Teyona!!" I'm like, "Oh my god..."
Still, she's going to get used to it. These days, she's busy with looking for more work to establish herself in the industry. "As of right now," Teyona revealed, "I'm trying to get my portfolio strong enough, so I can get out there and meet designers and get ready for fashion week."