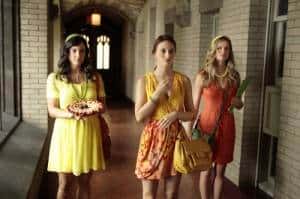 This week's episode saw Serena dealing with an embarrassing STD rumor, while Blair battles a certain new Columbia student for a prized position as a guest lecturer's assistant.
Serena is making a habit of turning up late for her English Lit class thanks to a cute guy from her apartment building who keeps snagging cabs from her to send his one-night-stands home. Flirty banter ensues and we wonder: Has S found some new man candy?
Juliet tells Ben that everything seems to be working, but he questions her intentions with Nate. She tells him she is only keeping Nate close to keep Serena on her radar. Ben tells Juliet not to stop until Serena is left with nothing, just as he was. Columbia will be the first to go.
To Read More Click Here.