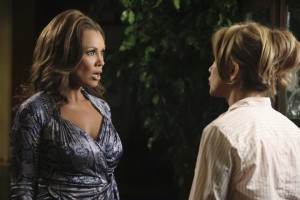 Well, the story lines are moving at a fast pace on Desperate Housewives and we are only on episode two!
Lynette & Renee
WOW! Did NOT see that coming!!! As I watched Lynette get paranoid around Renee's friendship with Tom, my initial thoughts were that Renee was going to be the much needed foot to be stepped down to Lynette about bullying Tom, but boy was I wrong!
So Renee and Tom had relations back in the day, but was it before or after Lynette and Tom tied the knot? Or rather did Tom know Renee before he met Lynette? For Tom to have actually cheated on Lynette a long time ago, opens up so many layers for his character, because now we (plus Lynette) will have to wonder about every other time Tom has took a business trip and if his dad's infidelity problems was a hand-me-down trait. I hope that won't be the case. They are the only couple who has had a stable marriage. Don't want that winning streak to be ruined now.
To Read More Click Here.