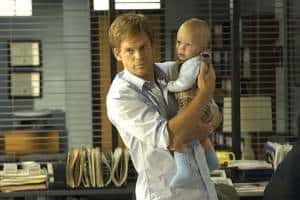 It's tough being a single dad. A difficult balancing act between work, relationships, and me time. Especially when that me time involves stalking your next murder victim and pulling corpses out of a barrel.
After last week's stellar return, 5.02 had a tough act to follow. It had its moments, but was rather sluggish, as is typical of early episodes in Dexter seasons as they start to build all the pieces that will come crumbling down later.
Dexter (Michael C. Hall) was back to his absurd rationalizations as he unsuccessfully attempted to focus on the kids. To be a better father, he would have to be a better killer. Kind of like saying the best way to get sober is to stop drinking and pick up heroin.
It had to end this way though, didn't it? No way we were going to see Dexter dragging Astor (Christina Robinson) and Cody (Preston Bailey) around all season long. Count me as grateful, as some of the scenes between them were a bit painful to watch (and not in a good way). Telling Astor that he loved her was another big step for Dexter. But did anyone really believe him when he told Deb (Jennifer Carpenter) that he had genuinely tried to make it work?
To Read More Click Here.