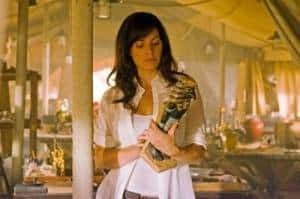 Shiny!
The long and short of this episode is that it serves as a continuation of the themes from Lazarus. Namely: pride and choice. We have a plot focused on characters swallowing their pride and being selfless for the betterment of others, whether they're family (Cat), loved ones (Chloe and Lois) or random annoying people who don't deserve to die (Clark.) This is the white hat response, and it serves to contrast/parallel with the choices made by the insidious Suicide Squad.
Cleverly, the show creates an argument that sometimes pride is vital. Deadshot doesn't need people to know he's good at his job, he gets a sick thrill out of it; whereas Clark is reminded in this episode that however far he's come as a symbol is not far enough. To truly inspire people, he has to step into the light and take pride in his work. The problem for him isn't pride, it is, as other characters have noted, his inability to properly bridge the gap between:
To Read More Click Here.