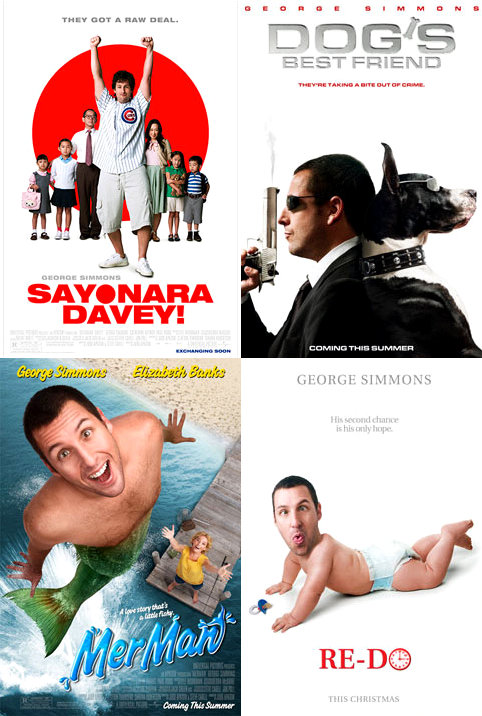 ''Funny People" is inching closer to its theatrical release in July and with that in mind, Universal Pictures introduced George Simmons, the main character of this Judd Apatow's comedy played by Adam Sandler, through a number of faux movies' clips. Four in all, the clips are each taken from Simmons' feature films entitled "Sayonara Davey", "Dog's Best Friend", "Merman" and "Re-Do".
The "Sayonara Davey" clip features Simmons who stars as Davey, a man who works at his alma mater before accidentally being sent to Japan as a foreign exchange student, having a dinner with his Japanese host family. The nearly three minutes clip sees Davey teaching Mr. Ashito how to appreciate his wife more.
In "Dog's Best Friend" clip, Simmons plays a detective who shows his love and care over his injured canine partner. Meanwhile, the "Merman" clip exposes Simmons as a merman. Finding himself in a hotel room, merman drinks a magic potion to adjust himself to the human world and has his tail turned into human feet.
The last clip comes from Funny or Die!. It is taken from Simmons' another film "Re-Do" in which he portrays a workaholic 40-year-old who is transformed into a baby. The less than a minute clip sees Simmons in his baby's body talking on the phone arranging a meeting, before his co-star Justin Long comes along to remind him that he can't go to the meeting due to his current appearance.
Beside these four movies, Simmons who is a successful stand-up comic turned comedy star has done numerous other movies, including "Code Green", "Astro-Not " and "My Best Friend is a Robot". More detailed information about Simmons, such as his biography and his works can be read at George-Simmons.com.
"Funny People" itself is the latest comedy movie from Judd Apatow, the writer/director of "The 40 Year-Old Virgin", "Knocked Up", "Superbad" and "Pineapple Express". It centers its story on George Simmons, a comedian who has a near-death experience. Supported also by Eric Bana, Jason Schwartzman and Jonah Hill, it is set to hit U.S. theaters on July 31.