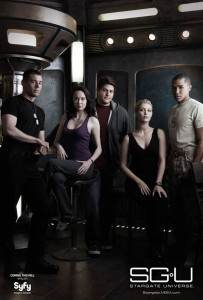 The Official Stargate Website airs webisodes called SGU-Kino, which I reported on earlier last week. Well, I have decided to recap all of the first ten episodes as Volume 1 and the next seven as Volume 2 for the fans of the show since there has been such a good turnout on the sight for the regular recaps.
So here are the first ten recaps of SGU-Kino:
Webisode 1 - Get Outta Here
The Kino spies on Col. Young as he writes something in a notepad. Col. Young feels it's presence and says, "I say you could use that thing to watch me" before standing up and shutting it off. Not much, but it's a start.
Webisode 2 - Not The Com Lab
Eli gives a tour of the ship and comes across a door that he says is leads to the Com Lab. He mentions that a lot of people still don't know how to get around the ship, but that he has a great sense of direction. When Eli opens the door, he realizes that it's not the Com Lab, but actually the infirmary. Eli then ponders how to get back to his starting point.
So much for a sense of direction But another thing I want to note is that the infirmary had a lot of cases that looked like they were modern and had clasps on them. Did the survivors of the Icarus Base manage to get that much stuff through the gate? Or were the Ancients more super advanced than I thought?
To Read Click Here