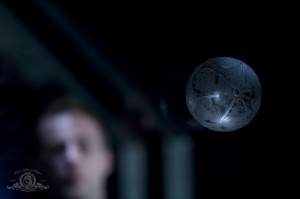 How did you like the SGU-Kino Vol. 1 webisode recaps? Well, if you loved them here goes Vol. 2 like I promised. After one of the most bizarre hours of Sci-Fi TV that I have ever seen (tonight's SGU- "Time" episode), I feel in the mood to explore more of the Destiny. How about you?
Let's begin with webisode 11!
Webisode 11 - Kino Race
Riley and Eli race two Kinos and nearly takes off Camile's head in the process. Or I think it was Camile Hey, they got to have fun somehow, right?
Webisode 12 - Covered Kino
Vanessa James gets ready to take a steam shower and spots the Kino watching her. She rightfully covers it up. I bet it was Riley, that weasel.
Webisode 13 - "Variety"
A scientist and Chef Airman Becker create formulas to make different flavors for food, for instance, banana. Chef Becker asks if there is any chance they could make chocolate, but the scientist says that consists of thousands of chemicals. Then the ship is rocked and they run to see what's going on.
At least they are trying to make their stay tolerable. Mush on a daily basis? GOD, I would hate to have to smell their damn bathroom units!
To Read More Click Here.