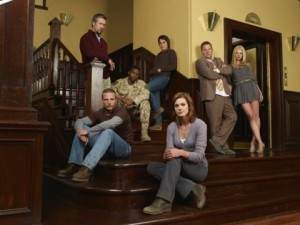 If you missed last weeks recap of "The Way Through", you can here. As you can prob tell I am not Micahel but I'll do my best with this recap for you readers.
A bee is seen flying around the town. It makes its way to the gazebo where Janet is sitting. Joe makes his way over. Janet notices the bee but does not flinch. When Joe finally is close enough and sees the bee, his body movement becomes very slow. Janet quickly reaches up and grabs the bee from mid air. Janet tells Joe that it is an Italian honey bee. Janet states that the bee should be in a winter cluster, instead of flying around solo in the town. Joe asks how she knows so much about bees. Janet tells Joe about how she would take Megan to the zoo, and at the zoo there was a lady who knew a lot about bugs. Janet places the bee on the step and Joe quickly steps on it. Megan asks why he did that and Joe explains that he is highly allergic to bee stings.
Near the outside of town, Charles finds Bill throwing what looks like eggs at the area where the pain gun is located. Bill points out the raccoon that was fried in the microwave wall and also the vulture that tried to eat the dead raccoon. Charles notices the chop suey that is sitting near the invisible wall and asks if Bill put it there. He happily answers yes. Charles tells him that there is something wrong with him, but this doesn't faze Bill as he replies "It's not like I killed my wife." Charles walks away, repeatedly calling Bill an ass.
To Read More Click Here.