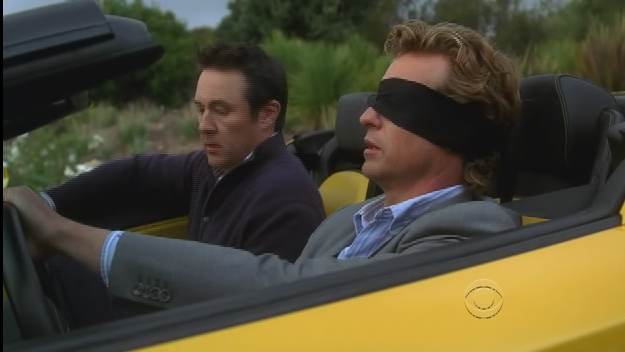 The Mentalist episode "Redline" opens at Zenith Motor Gallery in Marin County, California. It's a posh sales event for high end clients, and the salesmen are working hard to get the guests into luxury sports cars. One young salesman opens the trunk of a car to illustrate its roominess, and is horrified to find the body of a woman inside. "Liselle he murmurs in shock.
The CBI team investigates, identifying the woman as Liselle Douglas, 28 years old, with signs of blunt force trauma. Van Pelt reports that Liselle was last seen working late the night before, and a security sweep at midnight had revealed the alarm system hadn't been activated. The coroner estimated Liselle had already been dead by then. Jane makes one of his usual inappropriate comments about the "new car smell" in the trunk. Lisbon orders Rigsby and Van Pelt to have the body removed from the trunk and examined.
Jane and Cho walk over to interview the witnesses, talking first to salesman Brad Elias. Jane scoffs when Elias says they were like a family at Zenith Motors. Jane says they were more like a gladiator pit, fighting over commissions, "a seething mass of primal hostility and mistrust." Elias protests, but when Jane tells them Liselle's client list is in the upstairs breakroom, Elias and all but one of the other salesman race upstairs. Jane tells Cho he's just eliminated the remaining salesman as a suspect, because he's too honest to profit from murder, and therefore too honest to murder. The salesman agrees.
To Read More Click Here.