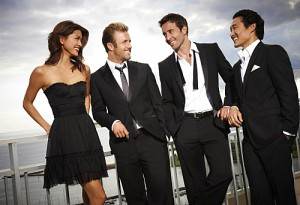 I'm about to severely date myself, but I remember watching the original Hawaii Five-O along with a whole batch of classic series like Dragnet, Hunter and The Equalizer when I was a kid. Mostly, my commentary on it at the time consisted of joking about how James MacArthur's Danny Williams was always the one who had to imperil himself first. Now that I'm old enough to actually do more than take potshots at the original, there's a remake for my generation. My first thought? Hoping it wasn't the next L.A. Dragnet.
We open during a prisoner transport in South Korea, where then-Lieutenant Commander Steve McGarrett (Alex O'Loughlin, who's still going to be the guy from Moonlight to certain people no matter what he does) gets a desperate phone call from his father, who's being held hostage by Victor Hesse (James Marsters), the brother of the man he's transporting (Boondock Saints, Norman Reedus). Moments later, the transport is under fire from an unmarked helicopter (start humming that Soul Coughing song now) and the whole situation gets as horrible as it could possibly get, culminating in both the loss of Hesse's brother and the murder of McGarrett's father. Wow, that's harsh.
To Read More Click Here.