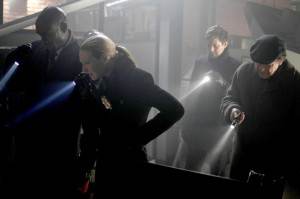 A man is working late in an architecture firm office. A female coworker comes over, led by the fumes of real coffee. (Hmm, says Featherlite. Real coffee? That's a strange comment.) The man, Ted Pratchett, tells her that he gets his secret coffee stash from a cousin in Hawaii. The office is rocked by an earthquake. The woman comments that it is the sixth quake since yesterday. They laugh at the news reports which claim the earthquakes are caused by global warming. As Pratchett returns to work on his blueprints for Pentagon Annex VI, another quake hits. It's the big one. The building falls down around him and he slumps to the floor against a support column.
Pratchett regains consciousness and something is a little off. The support pole is now going *through* his shoulder. Also, he now has 4 arms and 4 legs.
And I thought the coffee remark was weird.
Olivia calls Peter from her car. She teases him, making it sound like she's a telemarketer who's informing him that he has won a trip to New York City. Peter and Walter get moving.
To Read More Click Here