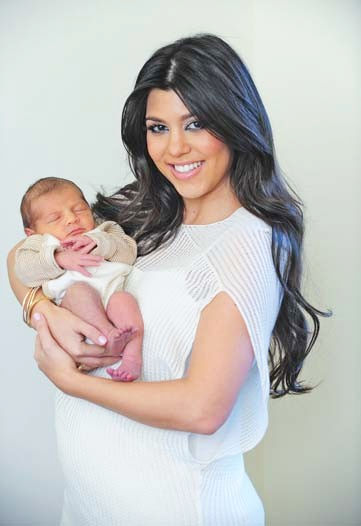 A picture which shows Kourtney Kardashian looking thinner after only seven days from delivering her first baby turns out to be fake. Kourtney revealed that the photo of her holding her first baby has been edited by OK! Magazine.
To WWD.com, the 30-year-old mother said, "They doctored and Photoshopped my body to make it look like I have already lost all the weight, which I have not." She went to reveal that the weekly did not have exclusive interview with her, stating she as well as her friends and stepfather Bruce Jenner never spoke to the magazine.
Making sure that people know the picture, the original version of which previously appeared as part of the January 11 issue of Life & Style, is totally false, the girlfriend of Scott Disick took the matter to her Twitter page on January 20. She wrote, "One of those weeklies got it wrong again they didn't have an exclusive with me. And I gained 40 pounds while pregs, not 26...But thanks!"
OK! gave their magic touch to Kourtney's picture by cropping at Kourtney's belly, replacing her face with a slimmer shot and even changing her shirt from white to lavender. However, when asked to give their comment, spokesperson for the weekly refused to give any confirmation.
Kourtney Kardashian gave birth to her first son with Scott Disick, Mason Dash Disick, in a Los Angeles hospital on December 14, 2009. In an interview with Life & Style magazine, she shared her joy of having her first baby, "It feels amazing. It's just so indescribable. You don't get how good being a parent feels until it happens to you."