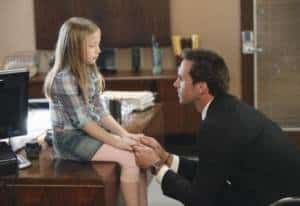 If you missed last week's FlashForward, "The Negotiation," read a recap here.
"Countdown" open, appropriately, with a date and time stamp: April 29th, 3:23am. Charlie calls out for her mother. Olivia rushes to her daughter's room and asks what is wrong. Charlie had a bad dream, one that leads her to say, "Today's the day daddy is going to die."
7:26am. In Janis' apartment, Simon explains that once the public makes the connection that he is Suspect Zero, he is a dead man. So, what doe sSimon want to fo then, Janis wonders. Simon replies thathe wants revenge against the conspiracy of which he was a part. He figures that if he can get into NLAP and take a look at the accelerator, he can determine the flaw in the mainframe that can prevent a second blackout. Janis is hesitant, so Simon promises that if she can get him into NLAP, he will turn himself in afterwords. Meanwhile, at the FBI, Mark and Demetri are eating breakfast. Mark gives Demetri a CD withfifteen covers of "Islands in the Stream," and tells Demetri that he should get on the plane with Zoeytoday, and fly to Hawaii. Demetri protests that today is the flash forward day and that he needs to be there, but Mark insists. Is Demetri actually getting cold feet? Demetri says its not cold feet, so Mark, not necessarily believing his partner, tells him that although their relationship is what it is today, marrying Olivia was the best thing that ever happened to him. Cut to Lloyd calling Olivia and saying that he wants them to be together tonight. Olivia tells Lloyd that Charlie is having a hard time withher dream and the prospect that Mark might be killed, so she's not sure getting together is the best idea.
To Read More Click Here.