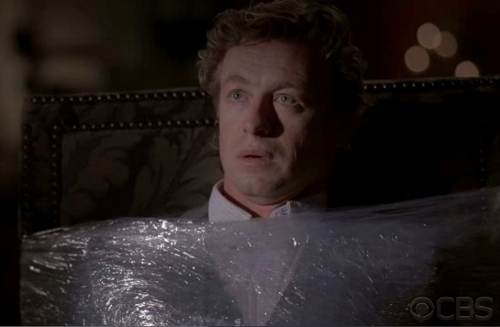 Red John returns in the season finale of The Mentalist, "Red Sky in the Morning". We first start out with Patrick Jane (Simon Baker) on a date with "real" psychic Kristina Frye (Leslie Hope). Jane appears to be trying his best at winning small talk when Kristina works her psychic magic on the waiter. She gives him a message that his recently passed mother is fine, and that his uncle says "Roll Tide", a football reference about his favorite team. The waiter is awed, and Jane is flustered and frustrated. He excuses himself to go to the washroom, and we see touching his wedding ring as he struggles to take deep breaths.
Back at the dinner table, he seems about to tell Kristina he can't do this when he gets a phone call from Agent Grace Van Pelt (Amanda Righetti). Back at CBI headquarters, she and Wayne Rigsby (Owain Yeoman) are examining a web alert Van Pelt received–for a video of a murder. The video shows a woman's brutal murder, and ends with the infamous Red John smiley face and a written message: ""I am becoming what I am meant to be/Your children's children will worship me."
To Read More Click Here.