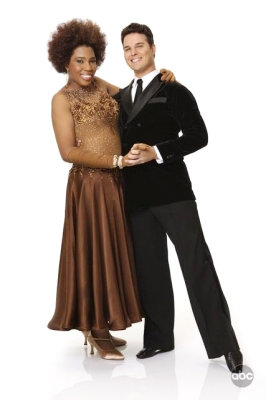 The promotional photos of season 9's "Dancing with the Stars" couples in their dancing costumes have been released. All the 16 contestants have been practicing their moves in the past two weeks and they have additional three weeks to prepare for the September 21 premiere where it is required to dance live.
Some of the celebrities have been doing interviews in promotion of the show as well as in attempt to garner early favor from the audience. Mya, who started her career as a professional dancer, talked about the rehearsal process with partner Dmitry Chaplin, saying "He's doing these drills every day to get me to learn the basics first, 'cause he tells me I can't possibility learn a routine and perform in front of professionals if I don't know the basics."
Kelly Osbourne meanwhile, was told to have a spray tan because she is the "palest" girl in the show. The singer also has to do a little trick to fiance Luke Worrall. "I had to tell Luke that all the other dancers are gay, otherwise he's going to be pretty unhappy about me dancing sexy dances with them," she confessed.
Model Joanna Krupa, who is scantily clad in the pair photo, said that she is learning from her past reality experience, "The Superstars". She said, "I think I probably had the worst partner on the planet for The Superstars. I said he's probably the 1 percent of people in the world that can actually get that side out of me that I didn't even know existed. But I'm thrilled with [my partner] Derek [Hough]."