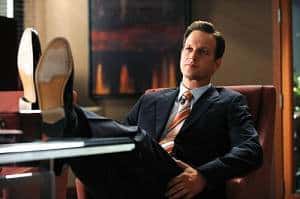 Is there such a thing as a bad episode of The Good Wife? It must be a good sign if the lowest criticism I can muster of Double Jeopardy is that it was not my favourite episode. Yet there was still so much to love (the stripper video!) and so much to-dislike is too strong a word-so much to not love (really, Zach?) that this, indeed, was not my favorite episode.
The cases on The Good Wife are always excellent; clever, unsentimental, often humorous. This week Alicia and Will went to court martial defending a soldier accused of murdering his wife. This was all thanks to Cary, who lost the case at state trial and called up a friend in JAG to retry the accused. As usual, twists ensued as Will and Alicia tried to find their footing in new territory. As the case started going downhill, Will even got himself into contempt to buy Alicia time. I loved the new setting, I loved the judge (Corporal Barnard, if I order you to be unbiased, will you be? Yes, mam-cue Willâ??s look of dismay), but would it seem terribly morbid of me if I wish the husband had actually been guilty? I know, Alicia has some suspicions of his guilt, but it was never really explored and I love me some murky moral decisions. Aliciaâ??s sudden move into first chair is a plot device threatening to be overused.
To Read More Click Here.