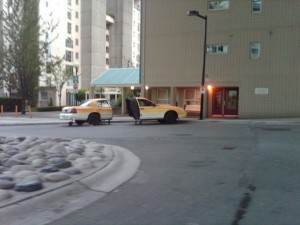 Earlier this week, I reported that Andre Royo (of The Wire fame) will be appearing in the season three premiere of Fringe. He is set to play "Henry, a soulful taxi driver who is unexpectedly forced into a tense situation with Olivia." Well, thanks to a photo from the set, I think we've found both Henry's cab and the source of the tense situation with Olivia.
For those of you who can't see the picture, the cab is cut in half.
The photo was posted by a Twitter user, who witnessed the filming just outside of his home in Yaletown, Vancouver. Now usually, such a bisection is indicative of a rift between the universes. Remember the season one finale? When David Robert Jones was trying to find the right spot to open up a bridge from Over Here to Over There, he ended up cutting a truck from the alternate universe in half, cutting a soccer player in half, and eventually, accidentally cutting himself in half (with Peter Bishop's help). It looks like this taxicab suffered the same fate, though how that happened or who is responsible is ultimately unknown.
To Read More Click Here.