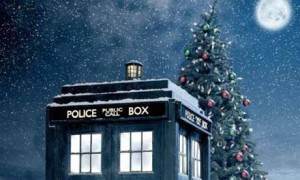 Doctor Who's fifth season ended with a (big) bang. So how does Steven Moffat expect to follow that up? Well, he's "going for broke" with the new Christmas special, Digital Spy is reporting. The episode, tentatively titled "Father Who?," begins filming today.
Last year's Christmas special was the first part of "The End of Time," while the New Year special marked the end of David Tennant's run as the Doctor and the beginning of Matt Smith's. Moffat seems to be fairly confident about following up such a massive special.
"Oh, we're going for broke with this one. It's all your favourite Christmas movies at once, in an hour, with monsters. And The Doctor. And a honeymoon. And… oh, you'll see. I've honestly never been so excited about writing anything. I was laughing madly as I typed along to Christmas songs in April. My neighbours loved it so much they all moved away and set up a website demanding my execution. But I'm fairly sure they did it ironically."
To Read More Click Here.