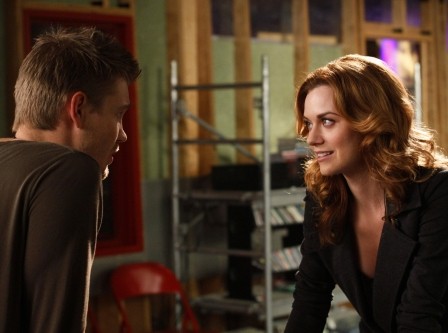 Welcome back! One Tree Hill returns after a very long hiatus that saw the show get picked up for a seventh season and rumors that said season 7 would NOT include Chad Michael Murray and Hilarie Burton. So soak up every last moment of Leyton action that you can.
Last time, the movie began production, Mouth and Millie broke up, Skills was MIA, Dan needed a heart, Brooke was boinking Julian, Peyton was preggers, Nathan was on the road, Chase and Mia were an item, Sam was snarky, Haley wanted back into the music biz, Deb was boffing Skills, and Jamie was awesome. Wow, I forgot how many characters this show has.
To get back into One Tree Hill, the show has nicely divided everyone into five neat, separate subplots. Peyton has a complication with the pregnancy, Mouth and Millie deal with their break-up, Haley and Nathan celebrate their wedding anniversary, Julian and Brooke discuss their relationship status, and Jamie tries to get Dan and Deb back together.
The Surprise
Lucas has a surprise for Peyton, but she collapses in pain. When they get back from the hospital, she sees the surprise: a perfectly decorated baby room. The surprise is incredibly depressing, not because she had a miscarriage, but because something else is wrong and the doctor said if she has this baby she could die.
She doesn't care because she wants to have the baby and name it Anna for a girl or Sawyer for a boy. Lucas tries to explain that there's a good chance both she and the baby could die if she has it, but she starts breaking plates at the mention of an abortion.
This is brutal and uncomfortable. The two fight and Lucas gets angry at the thought of losing Peyton. He says they can still adopt, but she resents the fact that he tries to guilt her into terminating the pregnancy. He's depressed, and she's scared, but she makes jokes about how Lucas would be a sexy single dad like Jake Jagielski.
Peyton thinks the whole Leyton love affair may have been leading to this baby, and that if she dies, that's her destiny. The baby starts kicking, and the magic of life lets Peyton win the argument so Lucas reluctantly goes along with Peyton's vision of everything ending happily ever after.
To Read More Click here.