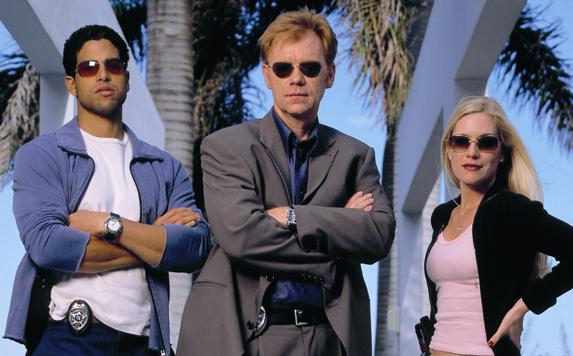 Passengers get more than just their luggage from baggage claim and those that work to protect the friendly skies have a few secrets of their own in this episode of CSI: Miami.
This episode opens to Suzanne Grady, a flight attendant, tumbling out on the luggage carousel - dead and bloody for one of the flight's young passengers to see. The ME determines she was drunk at the time of her death, which occurred because she bled out her carotid artery.
Kyle, who if you'll recall is the proud inhabitant of a new "apartment," cleans her up in the lab for Dr. Price. Suzanne had a heavy sleeping pill in her system so they have to run a sex kit to determine whether she was taken advantage of before she died. She has a cigarette burn on the inside of her hand so Calleigh and Eric look for evidence of a cigarette in the plane bathroom. They find the cigarette and take it to the lab where they take a print and trace it to Marvin Duffy who apparently has a history of illegally smoking on planes. Suzanne's DNA was on the tip of the cigarette.
Nastasha and Ryan go to the plane cargo area to look for evidence. Natasha spots some blond hair on the panel leading into the plane. They track down the passenger sitting in the seat directly above the entry point to the plane. He's a federal air marshal who gives them a tough time and says he's only there to protect the cabin, but not the crew.
The scene turns to Eric and Calleigh on a relaxing and spacious first class trip to somewhere...and then she jolts him to reality where they are on the plane looking for more evidence. Eric finds a bunch of empty bottles near the flight attendant's seat. They hear a noise from the back of the plane and it's another flight attendant who was "tidying the plane." But, she was very bruised which made her somewhat suspect, although she claimed it was just a product of being assigned to coach.
They can't find a match in the lab when they run the sex kit against the databases. However, Horatio thinks it might be a pilot involved and they track down a Grant Lawson. He says he hooked up with Suzanne in the "romper room." They show a picture of their private unmarked refuge on the plane. So that's what happened to all that extra carry baggage room that seems to have disappeared in the last couple of years. Ryan doesn't believe this romper room exists until Natasha steps on a floor that gives through to this special room.
"I guess we found the mile high club," says Ryan.
Natasha comments on how they should have one at work, and Ryan mentions how he could think of two people that would enjoy that. Natasha doesn't believe him though and doesn't want to hear about it. I guess Calleigh and Eric's relationship is not quite out in the open yet.
They question another flight attendant who claims she sent her up to the romper room to sleep off her 6 vodkas she had while they were in their jump seats. But she tells Tripp and Calleigh about a stalker that was obsessed Suzanne. Eric is back in the lab cross checking the stalker note handwriting with handwriting on luggage tags that were attached to luggage on board the plane. It matches with Marvin Duffy, who, turns out, shared 28 flights with Suzanne in the last year. He lit that cigarette to get her attention.
To Read More Click Here.