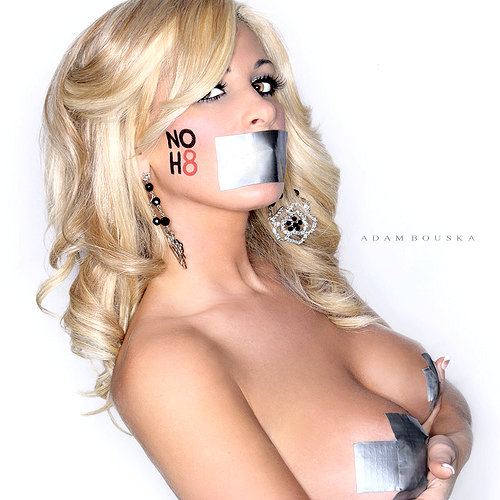 Kim Zolciak, the star of reality TV series "The Real Housewives of Atlanta", bares her breasts for the NOH8 Campaign, a photo project and silent protest against Proposition 8, a California's constitutional passed on Election Day that bans same-sex unions. Last Friday, August 28, she tweeted about doing the photo shoot for the campaign, "the noh8 campaign shoot was hot. and I am topless!!! Just to cause a stir to make people pay attention! xoxo."
"I feel so strongly about gay rights for several reasons, most importantly two of my family members are gay and my Uncle John was personally affected. He was denied rights that all heterosexual Americans are allowed," the busty blonde explains on the thing that prompts her to get involved in the cause. "I believe that regardless of your gender you should be able to choose who your partner is, whether it be same-sex or not. I am all for people being happy. I posed topless to make a LOUD statement to help this wonderful cause. Thank you NOH8 Campaign!" she elaborates.
Kim Zolciak joins the ranks of entertainers who have lent their famous faces to pose for the NOH8 Campaign. Most recently, "Lost" star Michael Emerson and former "Grey's Anatomy" actor Isaiah Washington have posed for the campaign.