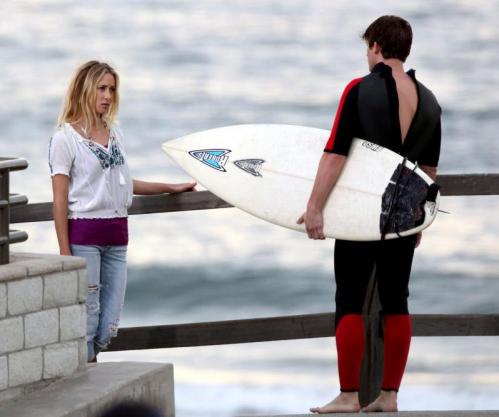 Warning to those wishing to avoid all 90210 spoilers: shield your eyes!
The following shots of Gillian Zinser and Matt Lanter on set reveal major developments for the second half of season two: Ivy will be skateboarding; Liam wil be surfing; and this pair will be talking.
We kid. The photos below don't actually depict anything noteworthy, but it's always fun to see actors on set, isn't it? Moreover, based on the way the mid-season finale concluded, it's safe to assume that Ivy and Liam are discussing the latter's new relationship with Naomi.
Most fans seem to be in favor of it, but we were actually digging his connection to Zinser's character. Where do you stand on who Liam should date? Weigh in now in our 90210 forum!