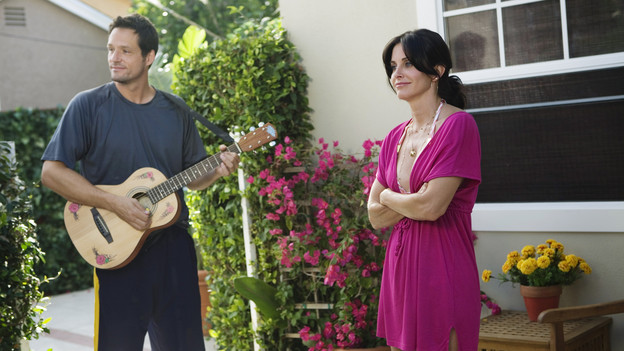 On a night when everyone has plans, Jules calls up a mortgage broker who had asked her out on a date. The guy's old enough to be her dad, but Jules doesn't like being alone. Unfortunately, Grayson catches her on a date with Father Time. He shows up the next day singing a song mocking Jules' inability to be without others. When Jules says the painted roses on his little guitar look pretty girly, Grayson strums out another impromptu tune. It's called Confident in my Sexuality and it's pretty darn catchy.
Grayson bets Jules that she can't spend the entire day by herself. That'll be hard to do as Bobby and Travis have just arrived for Barbecue Saturday (Bobby just made that up). Nevertheless, Jules takes the bet and boots the boys from her home. She makes the most of her alone time by sorting coins, sampling perfumes and altering a dress. This takes up about 22 minutes of the day. So she decides to hit the pool. Unfortunately, an alligator has wandered into her yard looking to join her for a swim...or for lunch.
To Read More Click Here.