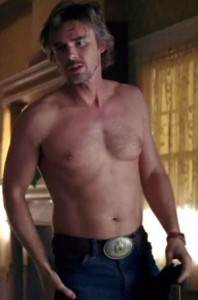 The anticipation for True Blood season 3 is reaching the boiling point, and actor Sam Trammell, who plays Sam on the show, is stoking the fire. Trammell spoke with Rebecca Murray at the 2010 spirit awards, and the conversation quickly shifted to the rumored sex scene between 'vampire' Bill Compton and shape-shifter Sam. 'I can't say anything more than that' because people want to be surprised, but there is something that people will be talking about.' Trammell said.
It appears the third season will delve deeper into the pasts of the core characters, with Sam's shadowy back-story finally seeing some light. 'There's some flashbacks to my past, and how I was able to stay afloat as a teenager on the streets, and some of the things I had to do. We really get deep. It's really good.'
To Read More Click Here.