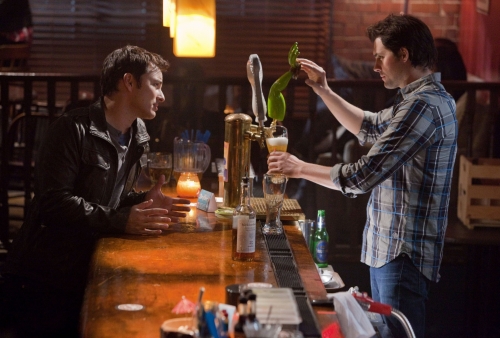 This week's episode of Life Unexpected mixes stormy weather and weathered relationships. Cate and Ryan's plans to elope are dashed when the city is flooded. During the storm, we learn about Lux's back story, Cate learns about Baze dating her sister, and Jones learns he shouldn't make out with other girls at a party. Let's see what else the episode taught us, eh?
Welcome to a rainy day in Portland. What's the best game in the morning? Sex, Marry, Kill, which is ironically what I played on my vacation last weekend! Though I disagree with Ryan on the Jessica's: It's marry Biel, sex Alba and definitely kill Simpson. OK, sidetracked, back to Ryan and Cate in bed. Hmm, it's the best of Cate and Ryan on the radio as they relax for once, breakfast in bed included. The morning grub is actually Cate's engagement ring in a box, and she proposes to Ryan.
On the other end of town, Baze and Abby also take a step forward in their relationship: She starts unpacking some stuff at his place. Good news for Lux, too. She makes good with Jones and he invites her and Bug over to his house after school for a my-parents-are-out-of-town party.
Back at Cate's, she begins looking at wedding sites in preparation for their upcoming nuptials. The new Cate wants to go all out for their wedding, even asking Lux to be Maid of Honor at the ceremony. Unfortunately this is bad news for Abby, who happens to call moments later. She's furious that she heard Cate's big news over a voicemail from their mother. "Well, maybe you should sleep at home more," Cate says. "She says you've been shacking up with some mystery guy for like the last week."
Of course the big mystery guy is Baze, who has turned into Abby's...well, lapdog, to put it the nicest way possible, even joining her yoga class. Cate happens to show up to the class, probably hoping to break the bad news that her sis is not her Maid of Honor, but it's all interrupted when she figures out that Abby and Baze are sleeping together. Baze retorts that this is his way of growing up and Cate has to deal with it.
To Read More Click Here