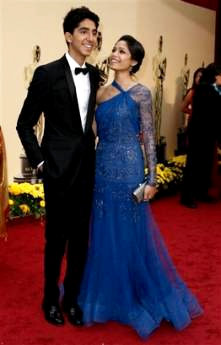 Walking together on the red carpet of the 81st Annual Academy Awards, held on Sunday, February 22, Dev Patel and Freida Pinto have denied the circulating rumors of them dating. Contrary to those dating reports, both stars are still single.
"No, no, no," Patel told Ryan Seacrest of E! Online. As for Pinto, the "Slumdog Millionaire" leading actress told Ryan that despite the success of the dramedy flick, no one has asked her to go on a date. "I've been waiting for you to call me up," the actress jokingly told Ryan.
Dev Patel and Freida Pinto play on-screen lovers in "Slumdog Millionaire," which scored a total of eight awards out of ten nominations at the on-going Oscars. Rumors of them dating have been mounting soon after Pinto split from her fiance, Rohan Antao, recently.
Though denying they are an item, Patel and Pinto were seen all smiling as they posed for the camera during Oscars. They even placed their hands on each other's waists as they looked into each other's eyes.