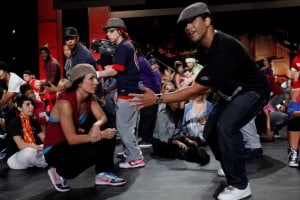 The So You Think You Can Dance auditions are almost over. Less than two weeks after its premiere, the show has already reached Las Vegas were the finalists compete for a spot in the Top 20. Clearly So You Think You Can Dance knows how boring its audition episodes are, so they get them out of the way as fast as possible to get to the actual competition.
Unfortunately, Fox still drags out the Las Vegas round to three hours, and since many of the people who made it through also made it through last year, this Las Vegas callback episode might just be a repeat from season 4. I'll be on the lookout for Twitchington in the background.
There are 172 dancers in Vegas, baby, and the night starts off strong with the pink balls flying out of the silhouetted dancer's crotch. Sorry, I can't stop thinking about that. Mia Michaels, Lil C, Adam Shankman and Debbie Allen are all in the house to cut dancers like there's no tomorrow. The callbacks begin with all the dancers doing solo performances.
To Read More Click here.