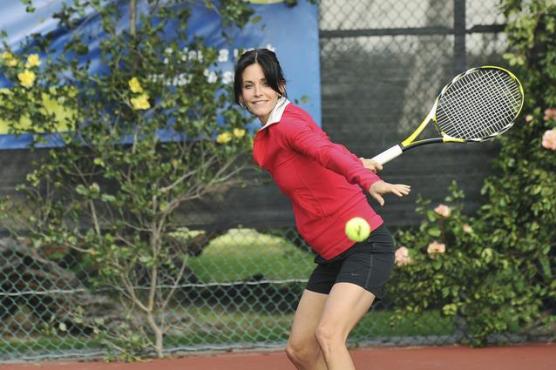 Okay we admit we were a little harsh during our review of the last episode of Cougar Town, so we've come into this week's installment, "All the Wrong Reasons," with a much more open mind. The show has vastly improved since its shaky pilot, and to keep holding our initial reactions is unfair to the show, so here we go!
This week had two main plotlines and one side one, and we'll go over each separately in our review:
Jules and Ellie. We love with the besties have a plot together, since these two actresses play so well off each other. This week it was the two of them competing over Ellie's fake boyfriend slash tennis instructor, Alex. When Jules made Ellie's day all about her, scoring a date with the tennis instructor was the last straw.
Ellie finally stood up to Jules and said what we've been thinking since the pilot: boo hoo, sorry your marriage didn't work and you're single and forty, but get over it! You're still a successful, ridiculously good-looking woman. I can't imagine life will be that tough, and so far it's been pretty entertaining for us to watch!
To Read More Click here.