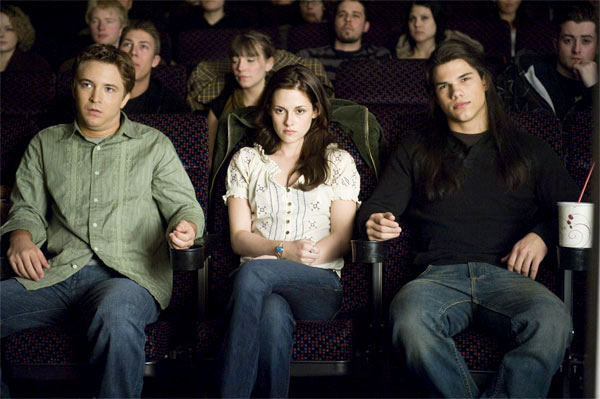 More photos from the highly-anticipated "The Twilight Saga: New Moon" have made their rounds. Found via Beyond Hollywood, the fresh images mostly center on Kristen Stewart's Bella and Taylor Lautner's Jacob. One in particular presents Bella in her three-way date with Michael Welch's Mike and Jacob. New pictures of Robert Pattinson's Edward are also included.
Those photos aside, People magazine is putting out its Special New Moon Collector's Edition, presenting an image of shirtless Jacob from "New Moon" and the first look at "The Twilight Saga's Eclipse" in high quality. The special edition, which will hit shelves across the U.S. this Friday, October 16, also includes interview with director Chris Weitz and the cast members.
Of the first sequel to "Twilight", Weitz said, "Twilight is about first love; New Moon is about heartbreak. That requires the actors to go to some very dark places." He continued to share, "Kristen may be the most serious actor I've ever encountered. She took the job of portraying Bella's depression very seriously."
"The Twilight Saga's New Moon" is an adaptation to Stephenie Meyer's second novel of her "Twilight" series. It will follow Bella when she is left abruptly by Edward. Being unguarded from outside threat and devastated following his departure, Bella is comforted by her growing friendship with Jacob. The movie is due to arrive in theaters across United States on November 20.
In the meantime, it was reported that the soundtrack album for this movie has been pushed to see an October 16 release. In a press release issued by Atlantic Records on Tuesday, October 13, the moving up of the schedule from the original October 20 date was made due to "overwhelming and unprecedented" demand.