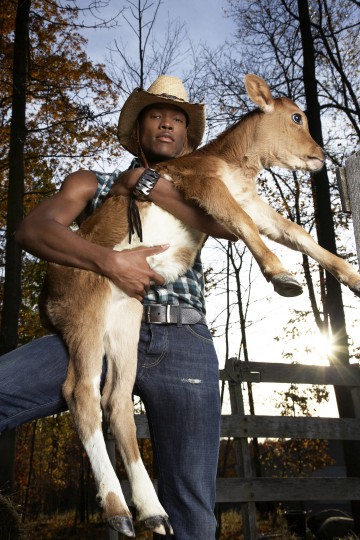 It's down to the elite eight on Season Two of Make Me a Supermodel after last week's shocking double elimination. The battle of the sexes is even again, with four girls and four guys remaining. Of course, after tonight's elimination the balance of power will swing in favor of one of the sexes again. Who will it be? The guys or the girls?
While last week's competition pitted the models against each other in a runway style wars, this week the models will be paired with their most difficult partner yet: a ban yard animal. The models are notified of their unique partner with a typical cryptic email: "Modeling is all about being able to work with others, even if they can't understand a word you're saying." Branden is convinced this means they'll be working with deaf people. This makes me wonder if Branden can utter a single thing that does not come across as completely douchey.
The models arrive at a working ranch for their photo shoot, which thrills some of the models and worries others. Just walking to the photo shoot Mountaha ruins a pair of shoes, which she thinks is a bad omen for the shoot. Meanwhile, Salome is super excited for the photo shoot. Salome grew up on a farm (cue photos of Salome in Mennonite dresses) and says she can pretty much tell you anything you need to know about cows. Also on team "hooray livestock?" Amanda. Jordan on the other hand is squarely in the city girl camp and is nonplussed about this week's assignment. This week's photographer Aliya Naumoff tells the models that cowboys are an iconic part of American culture and she needs them to embody the "roaming persona of a cowboy." This could be interesting.
To read More ClicK Here