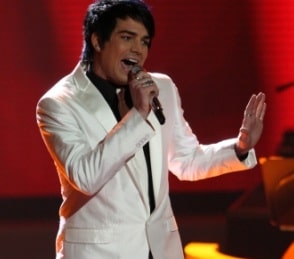 Rat Pack Week let the American Idol Top 5 channel their inner Joey Bishop, and we were given a solid top-to-bottom performance show. In every previous week of American Idol 8, there were at least one or two singers we could definitively say "deserved" to be eliminated based on their performances. This week, not so much. Everyone was good. Some were better than others - we now have to trust that the voters can differentiate the shades of gray. Will the voters listen to Simon Cowell? Will they follow their hearts? Will they do something completely random? I think Matt should go home, I wish Danny would go home, but I'm secretly hoping that something nutty happens tonight and all hell breaks loose. I suppose if anyone but Matt is eliminated it will be surprising, but what if Danny of Adam is the lowest vote-getter? Mayhem.
It's almost go-time, Children of Idol. Let's join hands, and dance a dance around the campfire of Elimination. Roast some s'mores, sing some Kumbaya, eat some mushrooms - it's the American Idol Results Show! I'm all jacked up on Red Bull and Jujubes, so I know I'm ready. Are you?
To read More ClicK here.