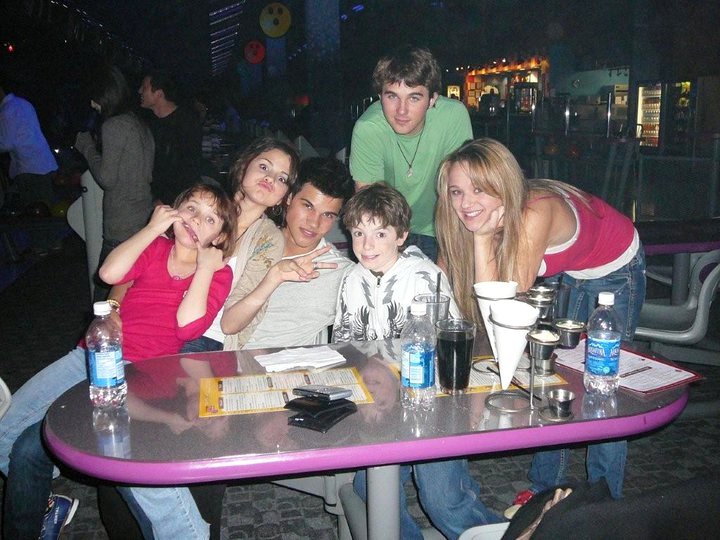 Taylor Lautner has enjoyed his down time by having a bowling match with Selena Gomez and her "Ramona and Beezus" co-stars, including Joey King, Hutch Dano and Jason Spevack. The stars had their bowling night when they filmed in Vancouver earlier this year.
In the pictures posted on Joey's Facebook, Taylor is seen swarmed by Selena, Joey as well as her sister Haley, Hutch and Jason. All of them are seen showing their peculiar faces, while the Jacob Black of "Twilight" saga seems tickled by them.
In another shot, additionally, Taylor posed with 10-year-old Joey as if they challenge each other. Joey's sister Haley also challenged the actor, who was once romantically linked to Taylor Swift, to a bowling match and staring contests.
"Ramona and Beezus" is set to hit U.S. theaters on July 23. Beside starring Selena Gomez, Joey King, Hutch Dano and Jason Spevack, the Elizabeth Allen-directed movie also features "Transformers" star Josh Duhamel, Ginnifer Goodwin, Bridget Moynahan, Sandra Oh and Sierra McCormick.
Meanwhile, Taylor Lautner had his movie "The Twilight Saga's Eclipse" released on June 30. He will also be seen in the fourth installment of the vampire series, "The Twilight Saga's Breaking Dawn" along with Robert Pattinson, Kristen Stewart and Ashley Greene.