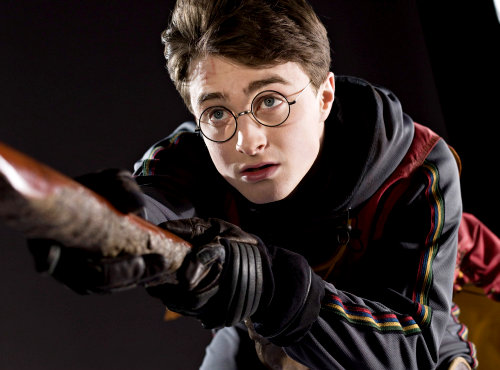 A fight scene gone wrong during the filming of "Harry Potter and the Deathly Hallows" has given the series' leading man, Daniel Radcliffe, his first injury. In a recent interview with French magazine One, the 20-year-old actor admitted, "Until now nothing really bad happened to me, only a few scratches. But I'm happy because I finally got a big black eye during the shooting of Deathly Hallows."
Providing more details on the mishap, the star of Peter Shaffer's play "Equus" recalled the scene he was supposed to be shooting before suffering the injury. "I was shooting a scene where Harry is fighting a huge snake," he said. "As you know, the Harry Potter films are big productions, so instead of an actual snake in front of me, our stunt coordinator held a long stick with a boxing glove at the end."
"He got me by surprise and hit me in the face," Radcliffe continued. "The blow was strong enough to knock me out! I saw the scene on slow motion afterwards, and it looks like I get hit like a real boxer. Really classy!" While he didn't specifically mention which scene is the fighting scene, Harry Potter Page suggested that it may be the Godric's Hallow scene in which Harry fights Nagini who was posing as Bathilda Bagshot.
This black eye apparently isn't the only injury Radcliffe suffered while filming the adaptation of the seventh book. Back in July while promoting "Harry Potter and the Half-Blood Prince", the actor who has played Harry Potter since the first movie opened up to "Live with Regis and Kelly" that he suffered a split lip when a stuntman hit a chair he was holding during "Deathly Hallows" shooting.
"Harry Potter and the Deathly Hallows", the seventh and final book of "Harry Potter" series will be made into two movies, "Harry Potter and the Deathly Hallows: Part I" and "Harry Potter and the Deathly Hallows: Part II". "Part I" is due for November 19, 2010 release in both U.S. and U.K., whereas "Part II" has been set for July 15, 2011 release. Both will see Rupert Grint and Emma Watson returning as Harry's friends, Ron Weasley and Hermione Granger.