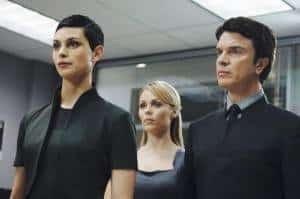 As much as I love FlashForward, things aren't looking good for a second season pickup. That means things are naturally looking peachier for V, the biggest competitor of FlashForward. It seems increasingly more obvious that for one to survive, the other must die. As such, I'll be happy if TV's newest alien invasion lasts for another year. Not as happy as I would be for the steadily improving FlashForward, but V is improving a little itself, and could prove to be exciting television once things really get going.
The first season's penultimate episode airs on Tuesday after LOST, and it's titled "Fruition." A set of twenty promotional photos has been released for the episode, and they all seem to revolve around one storyline: the aftermath of Lisa getting beaten up. With two broken legs and the letter V carved into her face (on her mother's orders), Lisa has been beaten up in order to incite Tyler to return to her side in order for the Vs to regain their grip on him. Meanwhile, Lisa gets some alone time with Erica (while Anna watches from afar, outside the office). The biggest holdout of the year for me has been the fact that Lisa hasn't turned into a Fifth Columnist herself yet, and maybe "Fruition" will bring that to fruition.
To Read More Click Here.