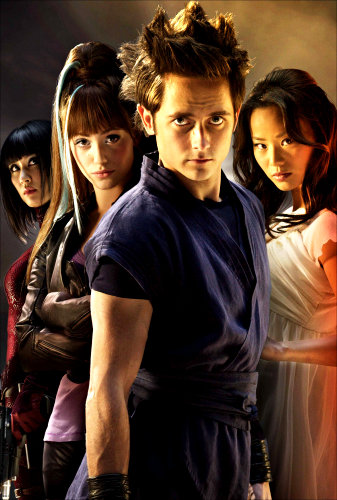 Three-minute long featurette for "Dragonball: Evolution" has been unraveled by WorldsFinest.it. Providing glimpses at the filming process of the live-action adaptation, the featurette in most part unveils a series of fresh clips, including the scene when dying Grandpa Gohan instructs Goku of what he supposes to do to save mankind, and the footage of Goku, Master Roshi and Bulma begin their journey to collect the dragonballs.
In addition to the never-before-seen footage, several behind-the-scene clips have also been compiled into the featurette, exposing the filming process for some of the action sequences. Moreover, director James Wong and most of the cast ensemble, Justin Chatwin, James Marsters, Emmy Rossum, Chow Yun Fat, Joon Park and Jamie Chung, take turn to talk about this forthcoming movie and about the international cast lined up.
Adapted from Akira Toriyama's famous Japanese manga of the same name, "Dragonball Evolution" revolves around Goku's journey to collect all seven Dragonballs. Having had one of the balls, the young warrior must now gather around six others before Lord Piccolo gets his hands on them and destroys Earth. With the help from Master Roshi and Bulma, he embarks on a quest to save the Earth. The live-action film produced by Stephen Chow will come out in U.S. theaters on April 8.
To Watch The "Dragonball Evolution" - "Making of" Featurette Click Here.