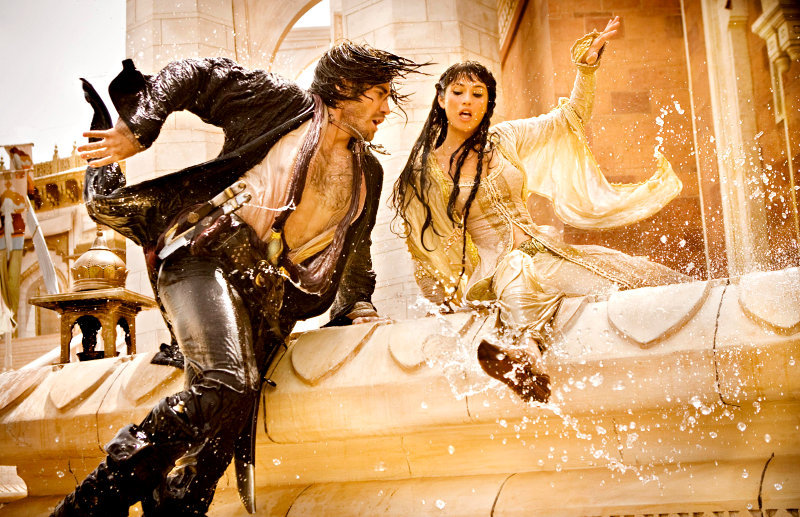 A look at what seems to be the trailer of "Prince of Persia: The Sands of Time" has been presented at the September 11's panel of the D23 Expo for the mouse house's future live-action slate. The trailer was introduced by Walt Disney Studios Chairman Dick Cook as an 'unfinished sneak peek' at the film.
Silas Lesnick of Coming Soon (CS) has written on what the trailer narrated by Gemma Arterton's Princess Tamina has to offer. Revealing that the trailer helps to explain the general storyline of the movie, the site noted that a shot of the magical dagger that gives its bearer the power to travel through time was shown. The trailer also offers footage of Jake Gyllenhaal's Prince Dastan.
The preview shows Ben Kingsley's Nizam trying to steal the dagger to destroy the world, forcing Dastan and Tamina to take it to "the secret guardian temple" and keep it safe. CS also revealed that there are footage of Dastan and Tamina flirting with each other. "At one point, they appear to be in disguise as servants and she asks if he's carrying the dagger. He tells her that she'll have to do a pretty thorough search to find it," so the site wrote.
Prior to the screening of the film's trailer, Bruckheimer did some promotion of the upcoming videogame adaptation. "It's a videogame," he explained, "But you don't have to be a fan of video games to love this movie. It's got romance and adventure; a dagger that can control time. I'm very excited."
Set to be released in the U.S. May 28, 2010, "Prince of Persia: Sands of Time" follows Dastan, a street urchin in 6th century Persia who after showing valor in battle, is adopted by the king as his heir. Now as the fate of the world is in jeopardy, he must join forces with Tamina, a feisty and exotic princess, to prevent a villainous nobleman from possessing the Sands of Time, a gift from the gods that can reverse time and allow its possessor to rule the world.