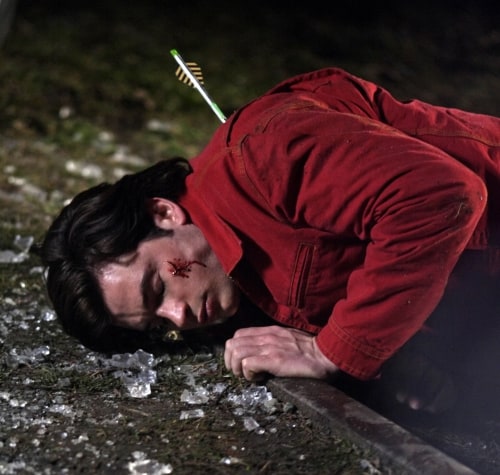 Previously on Smallville: This package was about 15 minutes of the episode, so lets just say it was Clark vs. Doomsday, everyone had different opinions about how to deal with it, and Tess was talking to the magical Kandor Orb.
A blur cuts across the Metropolis skyline and lands in a building for a meeting with Clark Kent. It's Cosmic Boy, back from the future to deliver yet another dire warning to Clark. Brainiac is still contained, but in the future, Clark dies at the hands of Doomsday all because Clark chose to save Chloe. Women are always causing problems like that, save them once and you're destined to die at the hands of an alien destroyer.
Cosmic Boy gives Clark another time travel ring to send Doomsday to the future where the Legion can fight him because Clark has no chance of doing it himself. In the future, I guess time travel rings come in boxes of Cracker Jacks, because it seems way to easy to get your hands on one. Clark refuses, but Cosmic Boy assures him that "Tomorrow the day you die." And on the day after tomorrow, Jake Gyllenhaal will star in a terrible film.
There are no more clones, so now we see the real Chloe stargazing with Davis Bloom. It would be romantic if he weren't a psychotic alien serial killer and she weren't a total idiot foolish enough to think she can stay by his side every minute of every day for the rest of his life.
To Read More Click here.