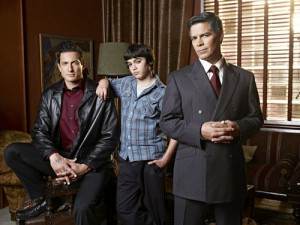 The latest episode of Caprica was a mixed bag in the sense that it started out being somewhat of a filler episode, but quickly evolved into either a 'game-changer' or just another huge piece to the ever growing puzzle that is becoming the Caprica universe. Either way, I am so ready and strapped for the rest of the ride.
Do NOT Frak With Daniel Graystone…
After announcing to the worlds that Graystone Industries will not be gaining profit from their Holobands, Daniel faces opposition from the board of directors of his company. I stress "his" company. The group of assholes want to vote Daniel from being the CEO of his own company and he gets a heads up on the shenanigans from Cyrus. When asked if he has the votes to maintain his position, Cyrus simply looks worried and walks off.
Daniel, feeling like his world is slipping through his fingers no matter what he does or say, gets a motivational boost from Amanda who reminds Daniel that he is one of the most oratorically, astutely business men that she has ever known who doesn't let small things cloud his overall vision and beliefs. In short, she pretty much says that Daniel is basically Bill Gates, but the next scene suggests that maybe he is a hybrid of Gates and Steve Jobs.
To Read More Click here.