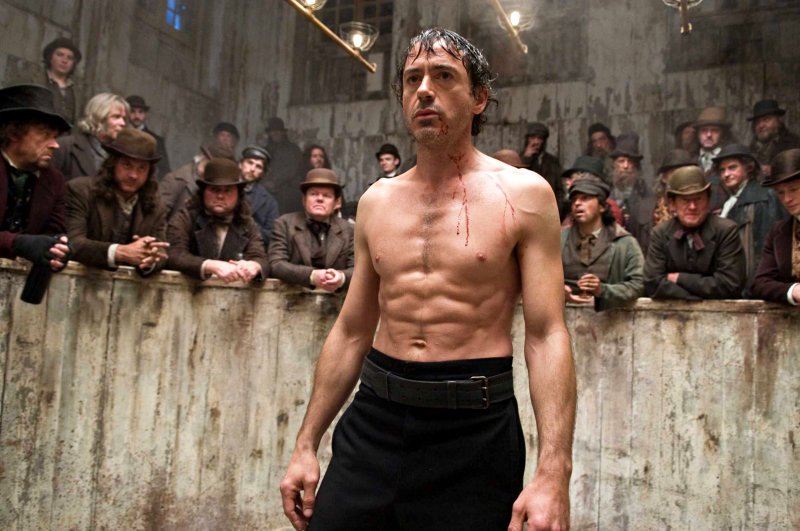 During the "State of the Industry" presentation from Warner Bros. at 2009 ShoWest in Las Vegas, the first trailer of "Sherlock Holmes" has been debuted. Introduced by its leading man Robert Downey Jr., the two minutes footage has been claimed by Latino Review to display a mix of action and humor.
Providing a written description to the trailer, Latino Review started by mentioning that the only indication at the storyline will be provided by a voiceover of the baddie and Sherlock. After the bad guy is heard saying, "Tomorrow, at midday, the world as you know it, will end," Sherlock responds, "Well, there isn't anytime to waste then, is there?"
Then a slew of snippets takes over, showing Sherlock jumping out a third story or so window into the river below, involving in a bare knuckle fist fight and handcuffed naked to a bed. Aside from exhibiting footage of Sherlock in action, the trailer also gives a brief look at Dr. John Watson, when Sherlock wanted to find someone that would compliment his skills, and at Irene Adler.
Based on Lionel Wigram's upcoming comic book, "Sherlock Holmes" is to center on the adventures of the famed 19th Century detective. This action thriller film will see Robert Downey Jr. as the titular character, Jude Law as Dr. John Watson, and Rachel McAdams as Irene Adler, Holmes' love interest, in addition to Mark Strong who is set to play Lord Blackwood. Originally expected to make its debut in U.S. theaters on November 20, it is now due for December 25 release.