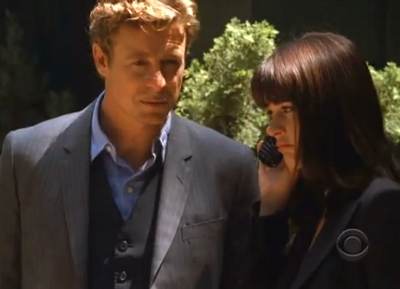 This week on The Mentalist, episode "Red Menace", the CBI investigate the murder of a lawyer, Gordon Hodge, who has only one client - a biker mob called the Sinner Saints. Lisbon (Robin Tunney), Rigsby (Owain Yeoman), and Jane (Simon Baker) interview the wife and son, who don't seem to know much about Hodge's shady clients, though they do enjoy the lavish lifestyle those clients provide for.
Jane and Lisbon go into the lion's den of Sinner Saints and question their leader Von McBride (Mark Pellegrino). They discover that Hodge was living the Sinner part of the biker lifestyle, partying and doing drugs. Since Hodge dodged a conviction on a drug bust, Lisbon and Jane fish with the idea of his being an informant on the Sinner Saints. McBride doesn't buy it, and doesn't bite when Jane suggests there might be another informant. McBride doesn't ruffle easily, even when an irate woman storms the bar and calls McBride a murderer.
The CBI work to track her down, eventually getting McBride to confess she's been harassing him because of charges he murdered her brother - charges Hodge got him out of. After they learn that the woman, Felicia Gutherie (Molly Price), vandalized Hodge's office and stalked him at his home, she becomes the number one suspect. Though she admits that she hated Hodge for making her brother out to be a monster in court, she denies being the lawyer's murderer.
Van Pelt (Amanda Righetti) also discovers through phone records that Hodge was having regular conversations with McBride's girlfriend Diamond. Van Pelt takes Lisbon along on a high speed chase to catch the fleeing biker girl. Turns out Diamond's in fear for her life if McBride discovers the affair, or if she gets labeled as the informant. She says the only other person who knew of her fling with Hodge was Hodge's wife.
Lisbon interviews the wife, who says she kept quiet because she didn't want her son Lucas to have to deal with any more scandal. Jane takes Lucas out for a driving lesson and a chat, and finds out that Lucas spoke with Felicia when she came looking for Hodge, though he doesn't have much to say about the meeting. He admits his dad was difficult, always on his cell phone, but he loved him, and so did his mom.
To Read More Click Here.