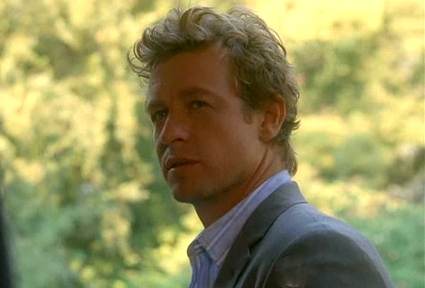 The Mentalist "Red Scare" begins with architect Alan Foster (David Kilde) working alone, late at night in an historic home. He hears a noise, then sees flashing lights behind a set of French doors. He moves closer, the doors open, and we see a shocked and frightened look on his face.
The next scene begins with Foster's body on the ground, dead after falling-or being thrown out the upstairs window. The CBI team arrive on the scene, and thus begins the spooky Halloween ghost story installment of The Mentalist.
Deputy Nick Fisher of the local small town police informs the CBI that they've never had a violent crime before. All the players, even the deputy, seem suspicious as the plot moves on. Agent Lisbon (Robin Tunney) brings in a local thief who was on the property stealing construction tools the night of the murder. The thief saw Foster's wife Lillian (Christina Chang) in her car outside the house that same night.
The home's previous owner, Victoria Abner (Frances Fisher), still lives in town. Descended from the original owner, she couldn't afford to pay the tax bills, and thus was forced to sell. Abner's nephew Drew (Michael McMillian) is staying with her, using his skills as a paralegal to help her with the tax bill difficulties. Though initially grateful to sell, Victoria later accuses Foster of "stealing" her family home, and gets into a physical altercation with Lillian Foster over it.
Patrick Jane (Simon Baker) gets Deputy Fisher to confess about a local ghost story, which involves the original home owner dying in the same manner as Foster. He's said to haunt the place, and Lillian tells the CBI that her husband had been hearing moans and strange noises at the house.
To Read More Click Here.