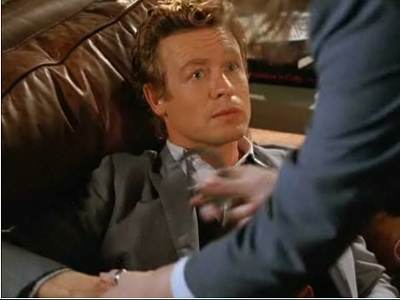 The other night on The Mentalist, "Black Gold and Red Blood", Patrick Jane (Simon Baker) once again defies people's expectations. After Agent Bosco (Terry Kinney) discovers the bug that Jane planted in his office, he has Jane arrested. As usual, Jane isn't remorseful in the least bit and doesn't seem to be all that fearful about jail time. Turning down Bosco's deal to quit the CBI, Jane heads off to the penitentiary. Not considering himself a cop, Jane refuses protective custody and gets put in with the general population.
Once we get a look at Jane's murderer roommate, if we weren't already thinking it, we get the idea Jane may have made a serious error. After all, Jane is very pretty and not at all violent, which is not the best combination in prison. Though Jane makes friends with his cellmate with a little psychotherapy, he realizes he may have been a bit naive when his cellmate informs him everyone knows he's a cop.
Of course, though Jane is pretty and non-violent, we forgot that he's also a little crazy. With absolute fearlessness, Jane confronts the other prisoners head-on where he both confuses and seduces them with his usual "psychic" charm. It's not long before he's playing cards with the top dog, and offering him hypnosis to get rid of his drug problem.
Meanwhile, back at the CBI headquarters, Rigsby (Owain Yeoman) and Cho (Tim Kang) try to appeal to Bosco to let Jane go. When that fails, they join Van Pelt (Amanda Righetti) in urging Lisbon (Robin Tunney) to use her influence over Bosco. Lisbon denies having any sway over Bosco, despite her team's assurances that he's in love with her.
The CBI's case in "Black Gold and Red Blood" involves two feuding families, both with claims on a patch of land that can be drilled for millions worth of oil. The Hines family, a modern day Romeo and Juliet joining of the two families, reside on the disputed property. When the husband turns up dead from a gunshot wound, the CBI are called in to investigate.
Jane is at the crime scene, and meets all the players before his arrest. The team interviews the victim's wife Donna Hines (Erin Cahill), her father Dooley Gerber (William Russ) and step-mother Sandrine (Ashley Jones). After the victims' father pulls a knife on the Gerber family at the crime scene, they pull him in for questioning. A "freedom" fantatic, he tells Cho about the oil and blames the Gerber family and the corrupt government for his son's death.
To Read More Click Here.