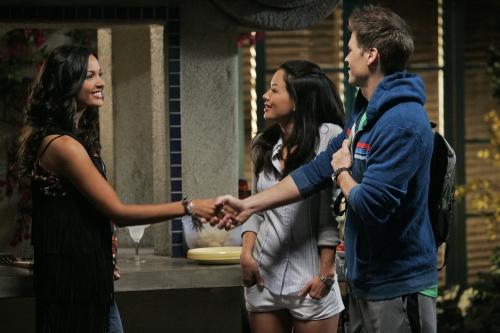 Melrose Place is always pretty hit or miss, even within the same episode, or 10-minute span of an episode. It also knows what it's good at (mostly), and that's over the top drama.
With the exception of Riley's dull story line, last night's episode delivered on expectations. There's a lot to go over, so let's assess where the characters stand after "Stoner Canyon."
Dr. Drew: No, not the Dr. Drew who's trying to keep DMX out of jail. The new doc at the hospital, played by Nick Zano, Drew Pragin. He's also a newest resident of 4614 Melrose.
We like this kid already, and not just because he's not named Auggie or Violet (although they set the bar so low, no one even bats an eye when they leave ... always a good sign).
When he's not wearing only a towel, he's clashing with Lauren at the hospital over their differing methods. He pegs her as an uptight stiff. She thinks he's a loose cannon. It's fun.
Lauren is impressed, however, when Dr. Drew's methodology gets them to the bottom of a case in which a young girl wrecked her car. We think this guy's gonna fit in really well.
To Read More Click here.