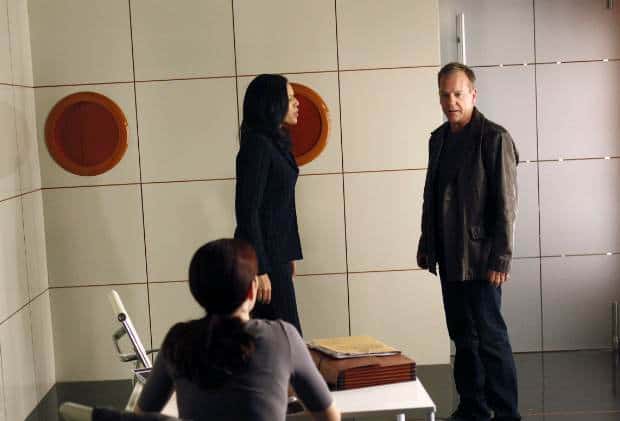 This week's '24' was wracked with stupidity and I'm blaming Dana for spreading the disease amongst the rest of the characters. Okay, maybe I'm just pissed that the writers knocked off David Anders' character and my wrath is seeking a target. Seriously, Mr. Anders. While I'm glad that your 'Heroes' character, Adam, bit the dust (hee) when he did so I didn't feel obligated to keep watching that show well past its prime, I really wish you could stick with a franchise for more than a handful of episodes. I enjoy your presence so. But enough of Josef's unfortunate demise (sob) - let's get on to the stupidity!
Clarification: I don't think the episode itself was stupid. My reaction was lukewarm, as has been the case for much of this season. Not fantastically awesome, but not terrible, claw-my-eyes-out either. That being said, I know sharp ten-year-olds with more common sense than these characters. We've got Dana, who's completely forsaken her VERY IMPORTANT DUTIES at CTU to hunt down Leo Lite and his Redneck Partner in Crime. I suppose I should add Leo Lite to the Dumb List, not that he wasn't already there. But he really should've seen Redneck Partner in Crime's betrayal coming. Money, booze, hookers, whacky tabaccy, and firearms are never a good combination.
To Read More Click Here.