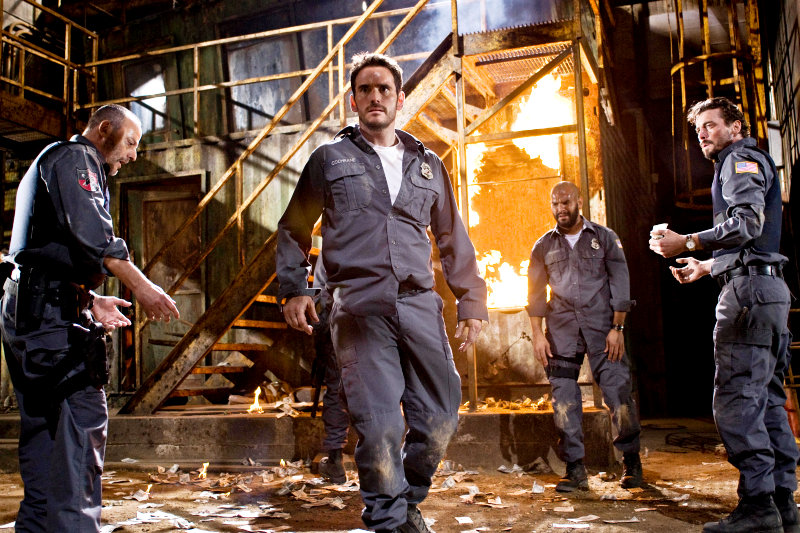 Armored follows Ty Hackett (Columbus Short), an Iraq war vet who must raise his adolescent brother Jimmy (Andre Jamal Kinney) on his own after their parents die. He gets a job at Eagle Shield Security, the same armored truck company that his dad worked for. His godfather and mentor Mike Cochrane (Matt Dillon) also works there. Faced with mounting bills, foreclosure and the possibility that his kid brother will end up in foster care, Ty becomes a begrudging accomplice in Mike's devious master plan.
Mike proposes that Ty join him and his crew -- Mike's hotheaded brother-in-law Baines (Laurence Fishburne), Quinn (Jean Reno), Dobbs (Skeet Ulrich) and born-again ex-con Palmer (Amaury Nolasco) -- in pulling off an inside job worth $42 million dollars. The plan seems fool-proof but, as any viewer of capers can tell you, all "perfect crimes" are destined to go horribly awry in a movie. This inside job is no different. It's the getting away with it part that proves the most difficult for these guards-turned-robbers.
Mike had promised Ty that the job would be violence-free, but again this is a crime movie and a bodycount is inevitable. Rebelling against his now panicked and violent cohorts, Ty locks himself inside his armored car at their drop site (an abandoned mill) ... with the other half of the loot. The thieves only have less than an hour to break into their own armored truck, deal with Ty and get their money before they miss their check-in deadline and the armored car service alerts the police. Ty is outnumbered, trapped, and looking at losing all that he's fought so hard to hold onto in his troubled life.
To Read More Click Here.