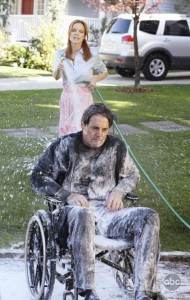 As much as I hate ratings and what they stand for, I wouldn't mind knowing how Desperate Housewives did in the ratings last night. They had the two hour premiere of 24 and The Golden Globes to contend with; two highly anticipated programs that could have easily knocked a new episode of Desperate Housewives out of the consciousness of TV viewers. (Then again, I didn't know the Golden Globes were coming on tonight myself…) Why do I care about this war for ratings from three surefire ratings winners? Because Desperate Housewives could have been pre-empted, because again, like last week, we were offered almost nothing new in "must see" shock factor. Does that mean the show was boring? Not at all. Just could have been held over a week or so is all I am saying. We did see the return of Katherine (sane Katherine, not that psycho Glenn Close clone) and we saw some improvement in the Lynette/Tom storyline, but the rest? Fluff.
Again, I 'blame' Dollhouse.
To Read More Click here.