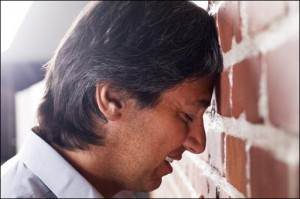 What can I say about the latest installment of Men of a Certain Age? Sad, hilarious fun… at the expense of Joe of course. Let me just get right to it.
The Set Up
The first shot of the night is of a woman (guest star Sarah Clarke) putting back on her blouse and knocking on a door. She calls to Joe, who's in the bathroom checking out a fresh shiner under his eye.
WTF?!
Credits….
Neurotic Joe and The Story of the Black Eye
***To avoid confusion (and frustration) I will recap this story through the eyes of Joe. I won't include all the interjections (as funny as hell as they were) because I am trying to write a concise and clean cut recap without making people scratch their head saying, "Huh?!?" every five seconds. So Joe's story will be told in italics while the much needed interjections will be in regular font. Get it? Got it? GREAT!!!
So Joe, sporting shades, waits for the guys at Norm's Diner the day after his first date in 20 years. Owen is the first to show up and immediately notices Joe's new look. After Joe takes off the shades, Owen laughs it off and thinks the black eye came from another male suitor of the woman, but it actually came from the woman… Hmm. Joe says that Terry told him that the woman was "fun" and Owen immediately picks up what I am thinking, "Was she a Terry hand me down?"
According to Joe, she wasn't. He begins to tell his tale.
To Read More Click here.