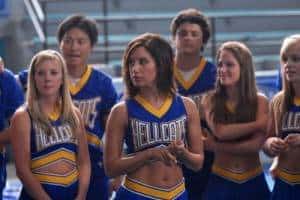 Marti rolls out of bed, right onto Dan. Seems Savannah is falling right into a relationship with Dan and Marti lays down some rules for Dan staying over. Dan prepares Savannah a real Irishbreakfast and he talks to her about how the team can spice up their bid video. She invites him to practice to watch and maybe give some pointers on how they can spice things up. The cuteness factor between the two is getting a bit much.
Marti arrives for cheer practice a bit late, which gets her the eye from Savannah, who's going through the routine as Dan watches from the sidelines. Alice and Savannah get into it over Dan giving some pointers in what the video should include. Alice tells him to get out, only to get into a rather personal back and forth fight with Savannah and calling for a vote to resolve the matter. Despite everyone raising their hand to do it the way it's always been done (including Marti), Savannah pulls rank and says that she's the captain and they're following Dan's ideas. Looks like claws are starting to come out. Alice goes to Vanessa to talk about it.
To Read More Click Here.