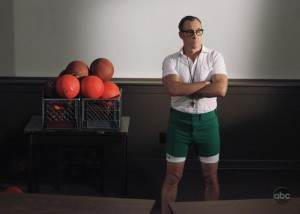 The ceaseless posting of Scrubs promo photos continues (seriously, there's even more to come). I've already posted photos and sneak peeks for the December 1st premiere of season 9 and now ABC has released photos for the December 8th episode. Check out Dr. Cox in those shorts. No man should ever wear those shorts.
THE STUDENT BECOMES THE TEACHER, ON ABC'S "SCRUBS"
"Our Role Models" - J.D. and Drew learn a tough lesson in mentoring when Dr. Cox and Lucy show them that sometimes the student is the teacher, on "Scrubs," TUESDAY, DECEMBER 8 (9:00-9:30p.m., ET), on the ABC Television Network.
"Scrubs" stars Zach Braff as J.D., Donald Faison as Chris Turk, John C. McGinley as Dr. Perry Cox, Eliza Coupe as Denise, Kerry Bishe as Lucy, Michael Mosley as Drew and Dave Franco as Cole.
Guest starring are Windell D. Middlebrooks as Captain Duncook, Steven Cragg as Lt. Underhill and Nicky Whelan as Maya.